Denham Harman Proposes The Free Radical Theory Of Aging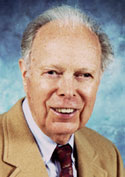 Who:
Denham Harman
When:
July 1, 1956
Methods:
Harman's logic proceeds from three observations: (1) irradiation causes premature aging; (2) irradiation creates oxygen radicals, which may mediate its effects; and (3) cells produce oxygen radicals under normal conditions. From these premises, he theorized that aging could be caused by endogenously generated oxygen radicals.
Institution:
University of California - Berkeley
Where:
Berkeley, California, U.S.A
---
Harman speculated about the mechanism of action of oxygen radicals within cells: "The manner in which a highly reactive radical such as OH would exert its effect on a cell is obscure. ... They would also be expected to react to a certain extent with other cellular constituents including the nucleoproteins and nucleic acids. ... In addition, since genes would be expected to be attacked occasionally it would be anticipated that mutations and cancer would result every now and then."
He went on to propose that "reducing compounds" (what we would know call antioxidants) might represent a "chemical means of prolonging effective life" and that these molecules "might be of benefit in the field of cancer, chemotherapy, and nutrition."
References

Links